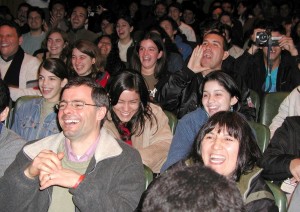 This binaural subliminal hypnosis program has been designed to help you become wittier and funnier.
You know what it's like when somebody says something and you have the perfect comeback several hours later. It's frustrating for many different reasons.
But what if you could come up with a response then and there, one that shows off your razor sharp wit and intelligence?
The Razor Sharp Wit Binaural Subliminal hypnosis program works with your subconscious mind to help you become wittier and be able to be funnier. It's powerful in that it makes the change natural for you rather than something you have to learn, practice and remember to do.
Through this program you are going to be able to become a wittier person which will help you feel so much better about yourself. Many people wish they could be wittier and this binaural subliminal hypnosis mp3 program is your chance to become a wittier person.
This is a downloadable CD quality MP3 that is 82Mb in size. The track is 60 minutes long.
Click the link below to listen to a sample from this hypnosis program.
Razor Sharp Wit Sample Track
Other Hypnosis Programs You Will Enjoy: